QT PRO Data Center Service
What is QT PRO Data Center Service?
QT PRO Data Center Service provides customers with safe and reliable data center services with "stable service and extensive support", a "convenient location", "safe and secure location", and "highly-reliable facilities".
QT PRO
Data Center Service

Stable service
and
extensive support

Convenient location

Safe and secure location

Highly-reliable facilities
QTnet data centers based in Fukuoka
QTnet provides multiple telecommunications carrier connection environments beginning with the server installation environment and QTnet communication lines necessary for customers to construct systems. QTnet data centers are also equipped with a connection point to public clouds provided by major vendors, and can be used as a Kyushu server location (also as a connection point).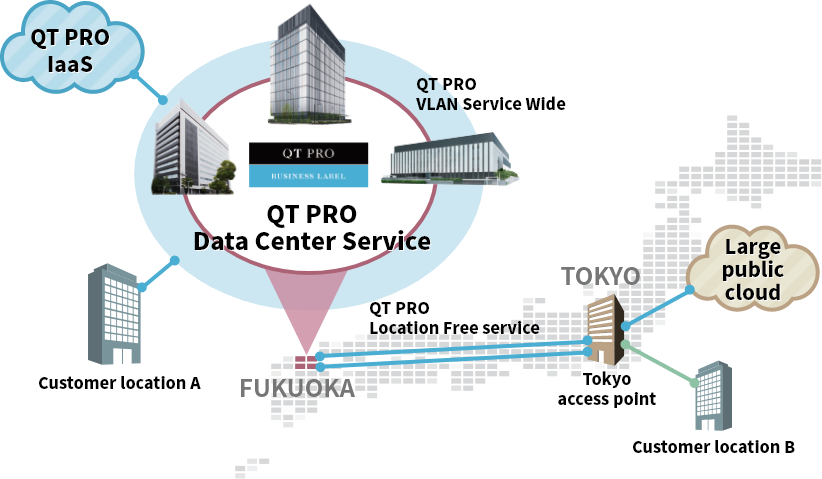 The system construction period and cost can be reduced by combining QTnet's network solutions such as "QT PRO VLAN service wide" and data center services.
Furthermore, interconnection with other companies' data centers and public clouds is also possible.
In addition to the low risk of disasters such as earthquakes and tsunamis, Fukuoka is a great place to do business, and boasts convenient public transport, reasonably priced and delicious food, and a comfortable living environment even for long-term stays. Furthermore, it has many maintenance bases of major vendors, making it easy to procure maintenance parts and find good engineers.
Our highly-reliable facilities feature buildings with seismic isolation structure to ensure no operational interruptions to equipment such as servers in the event of disaster, electric power equipment and communication line redundancy, as well as uninterruptible power supplies and emergency generators to ensure a non-stop supply of power following disaster.
Furthermore, to ensure security inside buildings, security equipment has been installed in multiple locations to monitor and restrict the entry and exit of visitors, ensuring the safety of our customers' information assets.
Full-time technicians are on hand to offer high-quality, efficient round-the clock assistance 24h365 days a year, and are capable of carrying out maintenance promptly in the event of sudden trouble or system failure.
Data Center Information
Inquiries
Please do not hesitate to contact us for details.
From small and medium-sized businesses to large corporations, we provide optimum services tailored to your company's needs.
Please do not hesitate to contact us for details on information such as services and fees.